Pushing the Limits of Inclusive Design: A Conversation with Abolfazl Ghaderi, FIT Sport Design Award Winner
April 19, 2023
Meet Abolfazl Ghaderi, the FIT Sport Design Awards 2023 Emerging Sport Gear Designer of the Year. His invention, the Bichack, is a powered wheelchair that allows users to exercise different muscle groups while propelling the chair. With built-in magnetic resistance flywheels and adjustable levers, users can switch between fully powered assisted mode, manual mode, and Bichack mode (exercise mode). Abolfazl's passion for inclusive and accessible design drove him to create a product that promotes an active and healthy lifestyle for individuals with mobility limitations.
Could you tell us a bit about yourself and your journey? Why did you start designing sport gear?
I'm a second-year MFA student in Interaction Design at Purdue University. I have BS in Industrial Design and my goal is to bring the two subjects together as closely as possible. Bichack was developed as part of a course project focusing on human cognition; How we communicate and interact with the world around us through our senses based on experience, perception, and so on.
How did the creative process unfold in developing a wheelchair that can be propelled by the user's exercise?
Once a technology is invented, it's up to the designer to humanize it and make sure that people can take full advantage of it. Magnetic resistance is not the newest technology, but there are ways to innovate how we use it. They have been already adapted to exercise bikes and home gyms and with a little sense of consciousness and passion to help others, they can be used inclusively for a target user in need.
What challenges did you face while working on the project and what did you enjoy the most?
With the advancement of technology, there are fewer limitations in bringing your imagination to reality.  It's very interesting to see how a digital component can work so perfectly with a physical one, in order to make an ultimate user experience. The main challenge was to find the perfect form and ergonomics in a product so that the form should follow its function with all the internal components. I can say that it is still far from perfect.
What motivated you to create the Bichack?
I have been growing a passion for inclusive and accessible design for quite a while. On top of that, I find it very important that designers stay relevant and updated on all the technological advancements. Bichack is an example of practicing Inclusive Design through Human-computer interaction. My belief is that once a product works inclusively, it will work perfect, universally.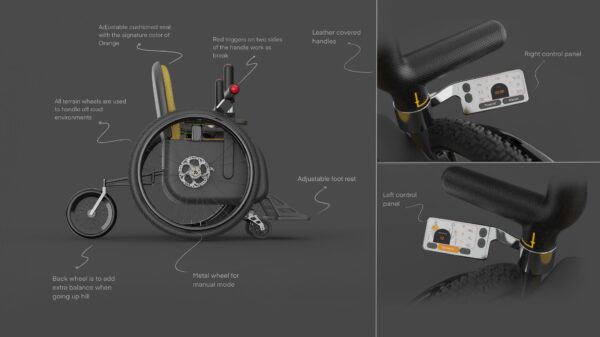 How will the wheelchair help the user target different muscle groups during exercise?
Typically, you can exercise different muscle groups by forcing them to push or pull against gravity. And with the right position and angle, a specific group is targeted. Bichak is like a moving resistance band, you can pull or push it in specific directions to target different muscle groups.
Do you think that there's a need for quality products like the Bichack in the market?
Imagine you are an avid weightlifter and bodybuilder, and one day you cannot move and use your legs anymore. Can you go to the same gym and use all the equipment anymore? We need to make things more accessible to include the ones who are not the majority. We usually don't do that when the market is limited, but you can combine it with what already has a market and is essential.
What does winning the FIT Award mean to you in terms of validation and recognition of your work in the sport gear design industry?
Bichack is a sport gear concept, and there wouldn't be any competition more relevant than a Sport design one, judged by professionals in the field. And being selected as the emerging sport gear designer of the year only goes to prove I am on the right track with my intentions.
What can we wish you for the future?
I am continuing my journey in exploring inclusive and accessible Design with the integration of new technologies such as HCI and IoT. I am hoping to bring more to users by bridging the gap between physical and digital design and innovating what could help people beyond sports in an ethical way.