Graffiti artist in love with sneakers, Sean Williams is today the "Engagement Manager" of Pensole Lewis College of Business & Design.
September 7, 2022
Involved in many social activities and mentorship programs, Sean Williams co-founded SOLEcial and produce "Kicks, Kids, and Cops" a yearly exhibition and discussion panel to bring kids and police officers into the same room to share their passion for Sneakers. Engagement Manager at Pensole Lewis College of Business & Design, we sit with Sean to discuss his professional journey and engagements to tackle the difficulties for women and people of color to access education and opportunities in the footwear industry.
Could you tell us a little bit about your professional journey?
It started for me at 13 years old. I've been in love with sneakers since that age. I was a young teen growing up in Brooklyn, NY as Hip-Hop culture was a young and rapidly growing phenomenon. Sneakers were a part of the daily experience of "getting fresh". Meaning your whole outfit had to be proper from head to toe. Dirty sneakers with clean clothes negated the whole thing. I still live by the importance of the sneaker in almost every footwear and apparel endeavor I'm a part of. Having said that, when long-time friend Dee Wells (Co-Founder of OSD and SOLEcial Studies) wanted to start a sneaker talk show, I was on board from the very beginning in 2007. We just passed our 15th anniversary on August 27th. In 2011, we launched SOLEcial Studies as a result of seeing that there was a lack of education and opportunity for women and people of color. We've had great success with the program to date. We've taught students in 8 different countries and there are almost 100 alumni of the program that now work in the footwear industry.
When did your passion for sneakers & Design start?
I became a graffiti artist at 14 years old, so having already been artistically inclined and already having a young puppy love for sneakers (which started a year earlier) meant stories were and still are very important to me. Seeing and wanting to know why / how things are made has been a part of who I am for a long time.
Can you explain to us your role as "Engagement Manager" and responsibilities at Pensole Lewis College of Business & Design?
This is a dream role for me as someone who has been a friend of Pensole Lewis College Founder D'Wayne Edwards since the very beginning of Pensole's mission (before becoming an HBCU). My role as Engagement Manager is to do what I call "planting seeds and building bridges". I build "genuine and organic" relationships with local Detroit arts and culture organizations, non-profits, and schools. I also regularly engage with other HBCUs and regular colleges and universities around the country. It is my team's role to spread the word about all the programs we have available and build a great working relationship that leads to increased enrollment in our programs every time we have them available. Before coming to PLC, I have over 30 years of experience working in a similar capacity in corporate America. I'm very happy to have this role which is really a part of a historic chapter in the Pensole journey. There's so much more progress to be made in the footwear and fashion industries that every deed and every class is contributing to.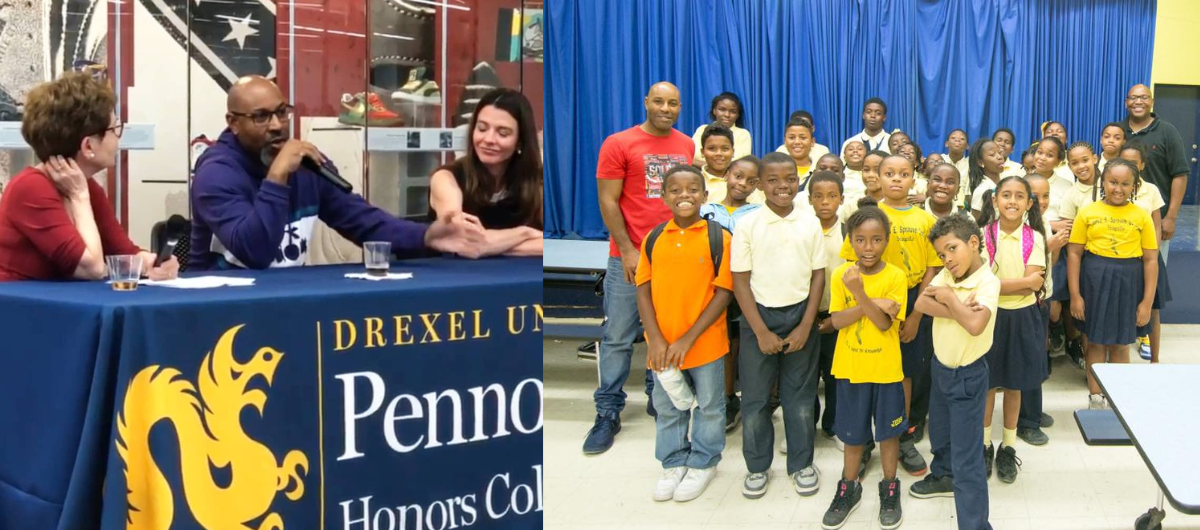 Drexel Panel with Pensole Lewis College of Business & Design // USVI Kids 
Can you share with us what the " Kicks, Kids and Cops" exhibition and discussion panel is?
Kicks, Kids, and Cops is my self-produced documentary short that I finally wanted to document since I started it (in 2018) along with my friend and longtime sneaker lover, Police officer Zoe Strunkey. It was her idea for us to come together and use sneakers as a common building block to get police officers and kids in the same room. The idea is to do pop-up sneaker exhibitions that feature sneakers owned by police officers who work at local precincts in the area. We also do a panel discussion that features the officers whose sneakers we are using in the exhibition. This allows the kids in attendance (and their parents) to hear from the officers in a way that humanizes them. We then allow the kids to do a Q&A and network with the police.
You recently hosted the 2021 edition, what were the community responses and how does it help break the boundaries between "kids & cops"?
The George Floyd Murder and the Covid-19 pandemic made police and community relations spiral down the tubes, so we decided to really push to host one with a sense of urgency to keep fighting to improve things in our community. For us to be able to have one during the pandemic and have it turn out really successful was something I'm very glad I documented. In some respects, it was our most successful one to date. Everyone left happy. The police, the kids, myself, and Zoe as well. We gave away A LOT of sneakers that day. I'm sure that helped! When we released the documentary short in early 2022 it was very well received. I've even received requests from people in other US cities to bring it to their areas.
About: Sean Williams of Obsessive Sneaker Disorder / SOLEcial Studies "Kicks, Kids & Cops One Sheet"
Appointed "keepers" of the peace, and properly curating a life of order in the New York streets, the NYPD in partnership with the SOLEcial Studies sneaker education program seeks to offer New York City youth a compelling learning experience. An experience that will allow us to sincerely demonstrate the importance of bridging the gap between the NYPD and the public. Sneakers and the 75 billion dollars globally per year it generates is an untapped career choice for women and minorities in our city. Our goal is to use sneakers as an agent for changing the dynamic between the youth and the NYPD by exposing them to the opportunities that exist within the Sneaker Industry.
You are leading many social activities and Mentorship Programs with SOLEcial Studies, what do you find the most fulfilling in all these involvements?
I'm very passionate about being the person that "I needed" for kids and young adults growing up now. The biggest life joke (tragically) is that in all my years as a graffiti artist (who loved sneakers) I was never able to meet or even have access to someone working in the industry to give me that spark, mentorship, and steer me down a path to the footwear industry. I'm here now but believe me, this was the long road that I probably didn't have to take! SOLEcial Studies is the main driver of that commitment to the next generation in that way. I see my role at PLC in a similar capacity as well.
What can you tell us about your ongoing projects?
I still curate sneaker exhibitions which allow me to stay sharp with the storytelling about sneakers and Hip-Hop culture. Each one I do gets better. I'm honored and blessed to have co-curated exhibitions that have been seen by millions of people to date.
What is in the pipeline for you?
Most recently, I've gotten back to creating art again. I hope to have my first solo art show before the end of the year. I'm still working on a few defining pieces that I can finish and then say I'm ready for an art show!
Last, what would be your advice to young Footwear designers?
I would tell all young and aspiring footwear designers to stay addicted to the story (and ALL the related details). Stay in love with problem-solving. Each venture into problem-solving makes you better every time. Constant elevation is key! Complacency is death!