CAKE's Kalk AP: The Award-Winning Electric Motorcycle Revolutionizing Sustainable Sport Equipment Design
April 25, 2023
In a world where environmental concerns are becoming increasingly important, the sport equipment industry is no exception. One company leading the charge in sustainable design is CAKE, a Swedish electric motorcycle manufacturer. Their latest creation, the Kalk AP, is a special edition bike developed specifically for anti-poaching purposes, using renewable solar power and natural fiber-reinforced biocomposite materials. This initiative has earned them the FIT Sport Design Award in Sport Equipment Design. In this interview, we speak with CAKE to learn more about their company culture, philosophy, and how they are revolutionizing the industry with their innovative designs.
How would you describe CAKE's company culture and philosophy? Can you tell us about the company's journey and how it has evolved over time? 
CAKE was founded in 2016 by the acknowledged entrepreneur in strategy, design and branding, Stefan Ytterborn. 
After a global success with POC and more than 3 decades as an influential force in design, product development and communication, Stefan Ytterborn starts his new company – CAKE. 
From the very start the goal was to create electric motorcycles that would combine excitement with responsibility, while inspiring the shift to a zero-emission society. The mantra instilled in the design team was "light, quiet and clean" and the result would two years later manifest itself in the first model, the Kalk, that first saw the light of day in January 2018. 
The Kalk perfectly mirrored the founder's passion for gravity sports while keeping in line with the ambitious sustainability creed. The result was a lightweight yet torque rich powerhouse that allowed for nimble, fast and exciting off-road adventures – all this without a noisy, polluting combustion engine, with minimal need of service due to the intricacies of the all-electric drivetrain and featuring driving characteristics that immediately won over fun-loving riders across the planet. 
The awards quickly stacked up, accolades included the 2019 and 2020 Red Dot Design Award, IF Design Award, Automotive Brand Contest Award and several "Best in Show" designations awarded by numerous outdoor industry publications. 
A growing family 
In 2019, CAKE launched the Ösa, a multifaceted utility platform with off-road capabilities that quickly became a favorite among both professional drivers and regular people looking for a do-it-all two-wheeler. Built around the concept of a light, yet rigid unibeam structure – anything a driver could need can be attached using a clamp-on system. Additionally, the powerful battery doubles as an integrated powerstation, opening up a wide-array of possibilities. Want to bring your guitar amplifier to the beach or use corded power tools while off the grid? The Ösa's got you covered. A bonafide workhorse. 
True to its roots, CAKE expanded into the racing segment in November 2020, with the launch of the Kalk OR Race and the Kalk INK Race models. These high-performing racing bikes feature nothing but the highest performing components, engineered to make the utmost of the electric drivetrain. Combining 280Nm of swift and powerful rear wheel torque with super low weight makes these the ultimate racing bikes, second to none. 
The latest chapter in the CAKE history of successful product launches took place in September 2021, when the Makka first saw the light of day. This convenient, nimble moped was designed with the modern urban commuter in mind. Featuring category leading power and range, the Makka is more than capable to both shuttle you to work in style and get you to and through your weekend outback adventure. 
What the future holds 
Since day one, the ambition to inspire towards a zero-emission society has been at the very heart of our operations. With our models gaining interest from more and more professional riders and companies alike, and with increased demand among both consumers and companies for efficient, emission-free vehicles that don't contribute to the rising issue of congestion, we've developed a new range of vehicles that builds on our existing platforms, but cater specifically for professional use. 
The aptly named :work series launched in November 2021, featuring revamped editions of both the Kalk, Ösa and Makka, that had been tuned and optimized for everything from modern last-mile delivery couriers and service professionals to craftsmen, park rangers and carpenters. These are truly durable service tools with prolonged product life cycles, built for high efficiency and low TCO. 
What does the future hold for us? Plenty, we're happy to admit. In 2022 we'll among other things continue our groundbreaking sustainability project with Vattenfall, where we investigate the feasibility of producing a bike with zero emissons. We'll continue to innovate the field of midsize motorcycles, championing the segment and spreading the gospel of clean, quiet riding. All this in line with our mission credo – to develop high-quality, sustainable electric motorcycles that will inspire towards a zero-emission society.
What inspired the creation of the Kalk AP, and what were some of the key design elements that went into its development? 
It all started when the CEO and Founder of CAKE, Stefan Ytterborn and his friend Anton Ströberg were out riding Kalk together. Anton has a long experience in anti-poaching work in Africa and he fast realized that the CAKE bikes could be a revolution for the patroller's daily work. 
Poaching has devastating consequences for all wildlife all over Africa. In some instances, it is the primary reason why many species face the risk of extinction. Contrary to general perception, one of the strongest reasons for poaching is due to poverty and the need for food among local inhabitants. Areas with widespread poaching are often large, remote, and lacking roads, making patrolling by car virtually impossible. Recently, anti-poaching teams have started using dirt bikes for patrolling. However, these bush bikes run on gasoline, and, depending on the location, the fuel used to power these bikes must be brought in by truck or via helicopter. Although the motorcycle approach has proven highly successful, the roaring combustion engines unfortunately alert poachers miles away, decreasing the chances of catching them. By utilizing CAKEs electric off-road motorcycles, the goal is to increase efficiency in catching poachers by quietly being able to approach them. 
To further increase the overall obligation toward sustainability and environmental responsibility, the specially tuned bush bikes is be charged by solar power. With every motorcycle, a solar panel and power station kit from Goal Zero will enable these bikes to operate in the African bush independent from the electric power grid on an ongoing, self-sufficient mission to protect wildlife.
The Kalk AP project is aimed at addressing the urgent need for improved anti-poaching efforts in wildlife conservation areas. Can you explain the impact that this project has had on wildlife conservation efforts so far? 
Of course many great examples and stories, but this is one example of it, a heartwarming message from our partner Mark Haldane in Africa: 
"The saving in fuel costs is huge, freeing up more funds for other areas in conservation. Now with our recently constructed mobile solar charging station we have increased the efficiency of this operation to cover all corners of our 500 000 acre block. These bikes are silent and allow us to access remote areas using game trails. Our arrests have increased and most importantly they don't disturb our wildlife. This product is having a positive effect on conservation. A big thank you to CAKE."
The Kalk AP project uses renewable power through solar panels. Can you speak to the benefits of this approach, particularly in terms of sustainability and its impact on anti-poaching efforts? 
Traditional combustion engine motorcycles require costly, inconvenient, and unsustainable deliveries of fuel to support the ranger teams as they work deep in the African bush. Those deliveries, by diesel trucks and even helicopters, further drive up the cost of anti-poaching patrols and cause even more pollution in environmentally sensitive areas. With Cake's electric bikes for anti-poaching, rangers are equipped with mobile power stations and solar panels to charge the bikes with renewable power from the sun, allowing them to operate off the power grid and independent of traditional power sources.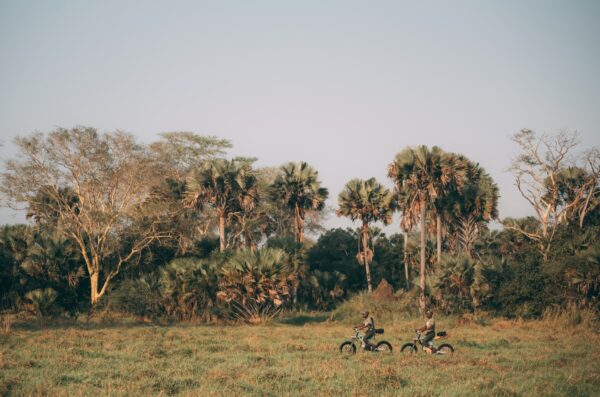 Can you tell us more about CAKE's partnership with Automotive Solutions for the distribution of 1,500 electric motorcycles in Greece? 
We have teamed up with a professional and experienced partner in Greece – Automotive Solutions. They are the leading provider of electric vehicles for business demands in Greece. Automotive Solutions is a supplier of full-service solutions that adjust fleet electrification by providing access to an entire ecosystem of services to enable companies to achieve their clean shipping goals. This new partnership includes an order of 1,500 motorcycles, which will be distributed throughout Greece and Cyprus commencing in Q2 of 2023.
Congratulations on winning the FIT Award for Sport Equipment Design! Can you tell us how it feels to receive such recognition, and how it can impact your wildlife conservation and anti-poaching efforts in Africa? 
We're honored from the bottom of our hearts! This is one of the most important initiatives we're working on and it makes us all smile that you find it valuable and important as well. Thanks again! 
This will help us in the journey of expansion and hopefully inspire more companies to follow to do similar initiatives!
Do you have any plans to expand the Kalk AP initiative beyond Africa and into other regions to support global environmental efforts? 
Of course, it's an ongoing project and we continue working on its expansion of it! The bikes have been at the same park all the time, and this team will be the guidance for others to learn how to use the bikes and follow their example. They will be the hub for electric motorcycles in anti-poaching areas. We're super happy to have such a great partner and the way the adapt to new technologies and innovations!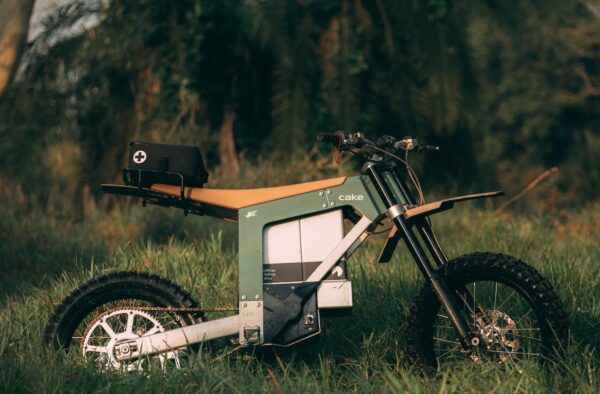 Could you give us a sneak peek into any upcoming projects or developments that CAKE has in the works? 
I would love to, but unfortunately, that's a secret 😉 
But we're launching a new bike on the 25th of April…